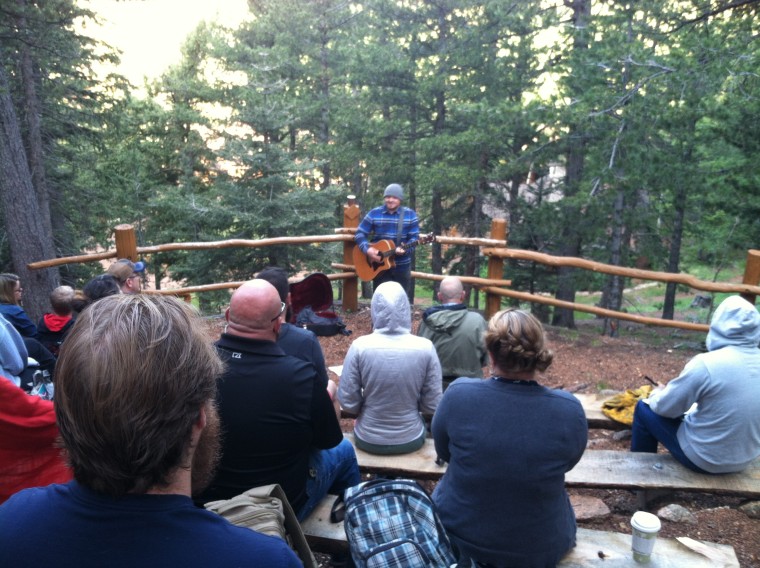 Laurie Thornton
IMPORTANT NOTE: WORSHIP@8500 HAS BECOME REORIENT RETREAT! Same beautiful, restful place. Same life-changing, Jesus-centric Gospel message. Same fun, inspiring leadership. Different, better name.
At the first early-morning worship time at Worship@8500 two weeks ago, I closed my eyes and heard the Spirit whisper to my heart, "You haven't been dreaming big enough for this…I'll take it from here." And, boy, he did. The weekend (June 25-28) was incredible, and we let the Father, Son, and Holy Spirit draw closer and closer to each of us. We adventured, we risked, we broke vows and judgments that kept us from receiving the love of the each member of the Trinity. And we felt the ground shake as we got healed, set free, and released to let the life of Christ flow in us and through us. Here are just a few photos and some snippets of testimonies that have come through our inboxes since the weekend.
Save the date to join us next year June 23-26, 2016.
"AAAHHH!!!  How do I even describe how powerful this time was for our family??? First, what a BEAUTIFUL group of believers! I don't know that I've ever experienced such a  single-minded seeking of God together, and such unity among strangers. Thank you for setting the stage to meet and love on our Jesus-family! My heart was nourished and healed through so much this weekend. The teaching was so full of grace and truth and communicated with such love! Truly Father was speaking through each of you! I was set free from lies…deep peace entered me Saturday morning and has persisted since! Living water is flowing in me, and through me. I have renewed strength, as I have returned to My Source. We are forever grateful for this retreat, and look forward to sharing all God does in the next year at the 2016 retreat!!" ~Kierstyn
"We are still buzzing with the Father's glory at the moment totally excited and inspired to be back [home] to meet the purposes he has for us here. We are feeling super inspired to start having dinner parties at our house to build community, stretch our faith, and bring people into the family of God. We have been in a position of giving for so very long and it felt amazing to be ministered to by you. It is not always comfortable for me to receive from others, but you made it very easy and such a blessing. The entire worship music ministry team was such an enormous blessing to us. We feel so inspired and sang the songs much of our 21 hour ride home. We look forward to introducing many of your songs into our worship experiences here.  We also felt inspired to continue writing more new songs. My mom who came with us was able to experience God in ways that she never has in her life. The exercise about the Father was specifically moving to her due to her past and recent traumas.  God is totally moving in her heart right now. Know that God is doing some serious healing in our family at the present."  ~Corey
"Truly, I thought every session offered me something to reach out for…some new way of thinking about each person of our triune God. Thank you all for a well-prepared, Bible-based and Spirit-breathed retreat…it has changed my life and I have much respect for the anointing that is obviously on all of you." ~Beth
"I have been healed of months of anxiety attacks and heart palpitations that I've been suffering because of burdens I took on! What has happened is I am full of joy again! The joy of my salvation has been restored! He's given me the garment of praise for the spirit of heaviness." ~Ami
"Just want to thank all of you. I have been feeling the presence and sweetness of the Lord more than I probably have in about 5 years." ~ Stephanie
August 5, 2015
---